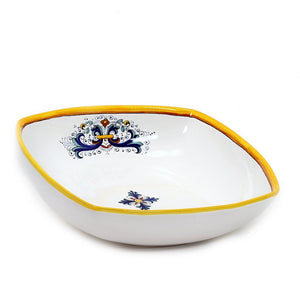 THIS PRODUCT IS FOR SALE ONLY

PAYMENT REQUIRED AT CHECKOUT
Ricco Deruta Lite: the ever popular Ricco Deruta design simplified for a more undemanding look...
The Ricco Deruta design is undoubtedly the most popular and recognizable design in Deruta Italy and the Ricco Deruta Lite was fashioned thanks to an exclusive design in collaboration with Artistica and the renowned Deruta €™s FIMA factory that ensures the best quality of hand painted traditional Deruta €™s ceramics since 1960.

The Ricco Deruta Lite dinnerware is the ultimate option for buyers willing to invest in something more formal and versatile. Its upscale look ensures that the set is either ideal for formal dining occasions or every day use to present any meal elegantly.

Dinnerware items of Ricco Deruta design are customary very richly decorated; actually, it is true of the popular thought that the more items are decorated the more they are equally better and valuable, however, with the minimal current trend, our mission is to create a much simpler look at a reduced price while still maintaining the original Deruta feeling.

Each item is kiln fired twice to ensure optimal quality and strength and then accompanied by Artistica €™s Certificate of Authenticity.

Like all Artistica dinnerware items the Ricco Deruta Lite products are 100% Food and Dishwasher Safe.

---