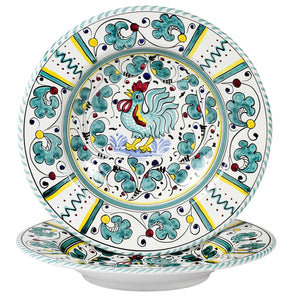 THIS PRODUCT IS FOR RENT ONLY

NO PAYMENT REQUIRED NOW: Place your order to reserve your items, as payment select "I WILL PAY LATER...".
We will call you to confirm, arrange delivery date, payment etc...
ORVIETO Collection: This is a very old and traditional pattern that originated during the Renaissance in the hill-top town of Orvieto - Italy.
Truly one of Italy's most unique and interesting cities, Orvieto has a charming medieval character, mainly due to its celebrated Cathedral, a gem of Gothic architecture that took more than 100 years to build.
The Galletto (Rooster) pattern's main motif is a crowing rooster that symbolizes good wishes for blessings, prosperity and well-being.