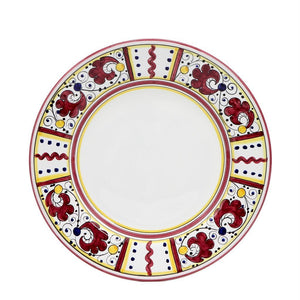 THIS PRODUCT IS FOR RENT ONLY

NO PAYMENT REQUIRED NOW: Place your order to reserve your items, as payment select "I WILL PAY LATER...".
We will call you to confirm, arrange delivery date, payment etc...
ORVIETO Red Rooster  Collection:  The Orvieto (or Orvietano) design is a very old and traditional pattern that originated during the Renaissance in the hill-top town of Orvieto Italy.  Truly one of Italy's most unique and interesting cities, Orvieto has a charming medieval character, mainly due to its celebrated Cathedral, a gem of Gothic architecture that took more than 100 years to build.  The 'Galletto' (Rooster) pattern's main motif is a crowing rooster that symbolizes good wishes for blessings, prosperity and well-being.
Hand made in Deruta-Italy.  All Deruta of Italy products are lead and cadmium Free. Dishwasher Safe Not recommended for microwave use.
The Deruta of Italy products are synonymous of high artistic value where faithfulness to colors, design and techniques is evident in their splendid and painstakingly production that also feature an impeccable double fired pure white thick under-glaze to assure product brilliance and durability.
---