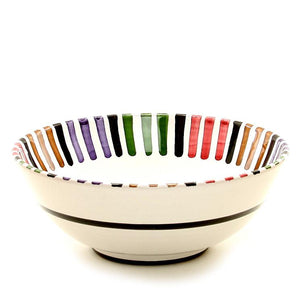 THIS PRODUCT IS FOR SALE ONLY

PAYMENT REQUIRED AT CHECKOUT
BELLO Collection
The Bello is hand-made and free-hand-painted in Deruta, Italy amd its' an exclusive collection designed by Bill Goldsmith for Deruta of Italy.
Through the years, this renown design has become a classic and featured, multiple times, in the best tabletop and dinnerware magazines.
Its unique design comprise colored brush strokes bordering the rim in black, green, purple, brown and red.
The Bello products should be treated like 'fine china'. Not oven proof, but 100% food safe. It is also dishwasher safe.