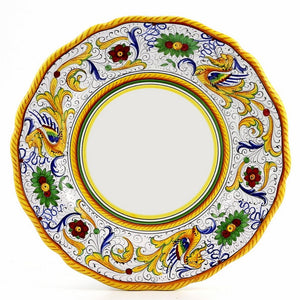 THIS PRODUCT IS FOR RENT ONLY

NO PAYMENT REQUIRED NOW: Place your order to reserve your items, as payment select "I WILL PAY LATER...".
We will call you to confirm, arrange delivery date, payment etc...
This Deruta of Italy collection is manufactured by FIMA a family owned workshop vaunting an old tradition for extraordinary high quality product line.
Their production is completely hand made within their own premises and FIMA classics designs are definitely among the very best in Deruta!

The FIMA products are synonymous of high artistic value where faithfulness to colors, design and techniques is evident in their splendid and painstakingly production that also feature an impeccable double fired pure white thick underglaze to assure product brilliance and durability.

Yes, the traditional Deruta dinnerware designs by FIMA are among the most expensive we carry at Artistica, but we can assure you that these are top of the line, truly beautiful products and your full satisfaction and appreciation for these stunning items is 100% guaranteed.