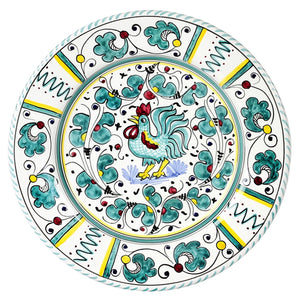 THIS PRODUCT IS FOR RENT ONLY

NO PAYMENT REQUIRED NOW: Place your order to reserve your items, as payment select "I WILL PAY LATER...".
We will call you to confirm, arrange delivery date, payment etc...
ORVIETO Collection: This is a very old and traditional pattern that originated during the Renaissance in the hill-top town of Orvieto - Italy.
Truly one of Italy's most unique and interesting cities, Orvieto has a charming medieval character, mainly due to its celebrated Cathedral, a gem of Gothic architecture that took more than 100 years to build.
The Galletto (Rooster) pattern's main motif is a crowing rooster that symbolizes good wishes for blessings, prosperity and well-being.
---
Authenticity assured!
Hand Painted & Hand Made in Italy! This item is shipped with Artistica's Authenticity Seal and Certificate.
Satisfaction Guaranteed!
It's simple: Not satisfied with your purchase? Return it! No Return Authorization required. No Problem. At Artistica, we stand behind our products, and our loyal customers. The full satisfaction of our clients and exceptional customer service, has been our priority during the 25+ years in business. That's why we have a 30 day hassle-free return policy -- No RMA's required! If, for any reason, you are not completely satisfied with your purchase, simply return it back to us for a full refund!
100% Food Safe
All Artistica's Dinnerware and Tabletop Products are Guaranteed to be 100% Food Safe. Our manufactures do NOT use any glaze or color pigment with lead content in our dinnerware and tabletop products. We independently inspected and test these products to comply with FDA standards and U.S.A. import regulations for lead and cadmium. See our latest independent laboratory test.

Dishwasher Safe
Artistica's tabletop and dinnerware ceramic products are made of the highest quality natural clay glazed and double fired at very high temperature. We recommended to space the items apart to avoid touching each other during the high pressure dish-washing.

Microwave and Conventional Oven Use
Artistica's dinnerware products are manufactured to be used as "Serving" pieces and not cookware, and therefore not suitable for conventional oven use. They can be used in Microwave oven for moderate reheating only.As the temperature of certain items may vary after microwave use, we recommend to carefully handle any piece.
Product Care for Dinnerware and Tabletop products.
The crazing effect -  With repeated use, earthenware products have a tendency to "craze" (forming minuscule lines in the glazing). The crazing is the nature of earthenware, and has no significant effect on the ceramics and sometimes it is a much sought after effect.

Thermal Shock and cracking -  Avoid sudden temperature changes - A thermal shock is the fracturing effect that occurs when ceramic objects are rapidly either heated or cooled and it may crack any earthenware plate.
The beauty of imperfection -  Because each piece of Majolica and Ceramic is individually crafted, you will notice slight variations in color and size and occasionally you will note paint smudges, fingerprints and looseness of lids.
These variances should not be considered as imperfections, but as evidence of fine, hand-crafted work.
Some History...
CLICK HERE should you like to learn about Italian Majolica and ceramics of the Renaissance.